WHY WAIT, PREVENT!!!
LICE COMBOT The 3in1 self-cleaning patented lice comb system, Prevents Infestations, Early Detects, catches and removes the lice and nits from your child's head, making the process quick, safe & hassle free! Kids just love doing it themeselves as a dailey/weekly after shower combing routine! for you its a Comb for them its their COMBOT!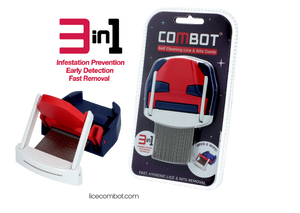 A special child, A special comb
Erez, our youngest son was born with a rare disease and complex disability which is also projected on his skin and inner neurological system through multiple nevi moles, satellites, and lesions. 
As the external big moles are also on his scalp and are hidden between his hair it was very hard to clear lice and nits from his head. Like every boy at his age, although being special in his way, the lice and nits outbreaks in kindergarten, preschool, and mid-school didn't pass on him and he was infested with lice and nits. 
Read more
OFFICE
Distribution Center:
US OUTPOSTSVC 3340 Greens Rd Bldg A Suite 700 Houston TX 77032
Developed & Designed in Israel
orders@licecombot.com